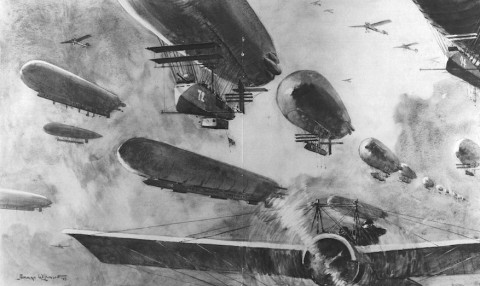 The Illustrated London News is not really a campaigning newspaper, but it has followed up last week's striking graphical depictions of the airship menace with this fantastic double-page drawing by Norman Wilkinson, RI, of a German aerial fleet on its way to bomb Britain (pp. IV-V; above). The title asks
WILL IT EVER BE SO IN THE EASTERN SKY OVER ENGLAND? THE COMING OF THE BATTLE-DIRIGIBLES AND WAR-PLANES
The caption explains that the Aerial Navigation Act 'forbidding the passage of unauthorised air-craft over certain areas' was 'deemed advisable in view of the numerous reports current of late of strange air-ships manoeuvring by night over this country'.
The fact gives particular interest to this drawing, which represents the eastern sky of England as we may one day see it if the fears of some are realised. It shows an army of invading air-craft. In the middle is the main battle-squadron of air-ships with appliances for bomb-dropping; in the foreground and in the background are high-speed aeroplanes acting as the fleet scouts. Unless met by a stronger opposing force, such an army of air-craft could clear the way for the water-borne fleet of its country and so facilitate the landing of large bodies of troops. It may be remarked that from a height of a mile on a clear day a vision of ninety miles can be obtained.
The text in fact nowhere identifies where these invaders have come from, but airship no. 72 is flying what looks very much like a German war ensign.
More
This post is part of an experiment in post-blogging the scareship wave of January-April 1913. See here for an introduction to the series.