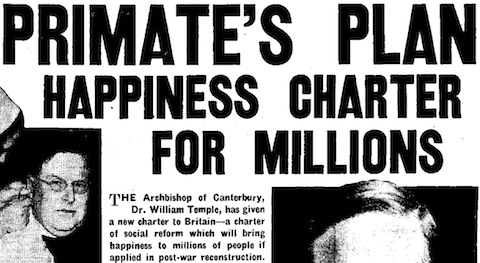 The front page of the Daily Mirror today is almost wholly given over to a story which the other papers are far less interested in. The recently-installed Archbishop of Canterbury, Dr William Temple (that's him on the left, though what is being done to him I have no idea; and that's his forehead on the right), used a speech in Manchester yesterday to give 'a new charter to Britain — a charter of social reform which will bring happiness to millions of people if applied in post-war reconstruction' (1). Its nine points are:
1. Provision of decent houses for the people of this country;
2. Every child to have adequate and right nutrition;
3. Equality in education. There shall be genuinely available to every section of society the kind of education will develop their faculties to the full;
4. Adequate leisure for personal and family life. Where the family is separated because of employment, there should be two days' holiday each week;
5. Universal recognition of holidays with wages;
6. The application of science to discover labour-saving devices, to save labour instead of labourers;
7. Wide appreciation of the fact that labour is a partner in industry, just as much as management and capital;
8. Recognition by workers and employers alike that service comes first, and the opportunity to make profit comes afterwards;
9. The opportunity for all people to achieve the dignity and decency of human personality.
An accompanying article by A. W. Brockbank says that Temple also warned against yielding 'to the lure of people who try to persuade us that it would be wise to establish such a non-party State'":
'The minority must have the right to become the majority if it can. It must be lawful to be in opposition to the Government.'
Just who he has in mind here is not made clear.
More
This post is part of an experiment in post-blogging the Battle of Britain, the Blitz and the Baedeker Blitz. See here for an introduction to the series.